Last week meant graduation for the companies in DigitalWell Ventures, which is DigitalWell Arena's accelerator in healthtech. Seven companies from Sweden, Norway and Finland have completed the 12-week accelerator program, and during "Demo Day" they were given the opportunity to present their business ideas to selected investors in central Oslo.
The purpose of the final pitches in Oslo is to prepare the accelerator companies in handling the professional contacts with investors.
- Having a strong pitch and a clear idea of how much capital you need to bring in are crucial skills to be able to scale your business, says Stefan Skoglund, CEO of DigitalWell Ventures.
Covers many areas within healthtech
The seven companies cover a wide spectrum in health. From Northern Lights Diagnostics' tools that provide healthcare professionals with insight into the expected outcome of antidepressant treatments, to EasyCare's software that manages aids at local healthcare facilities.
One of those companies, MeWe&You, was also awarded recently DigitalWell Award in the service development and commercialization category. In Oslo, the award was presented to Helene Strandkvist and Johan Strandkvist, two of the company's founders, which gave double reason to celebrate. MeWe&You specializes in supporting women in managing menopause through an application powered by both AI and Machine Learning.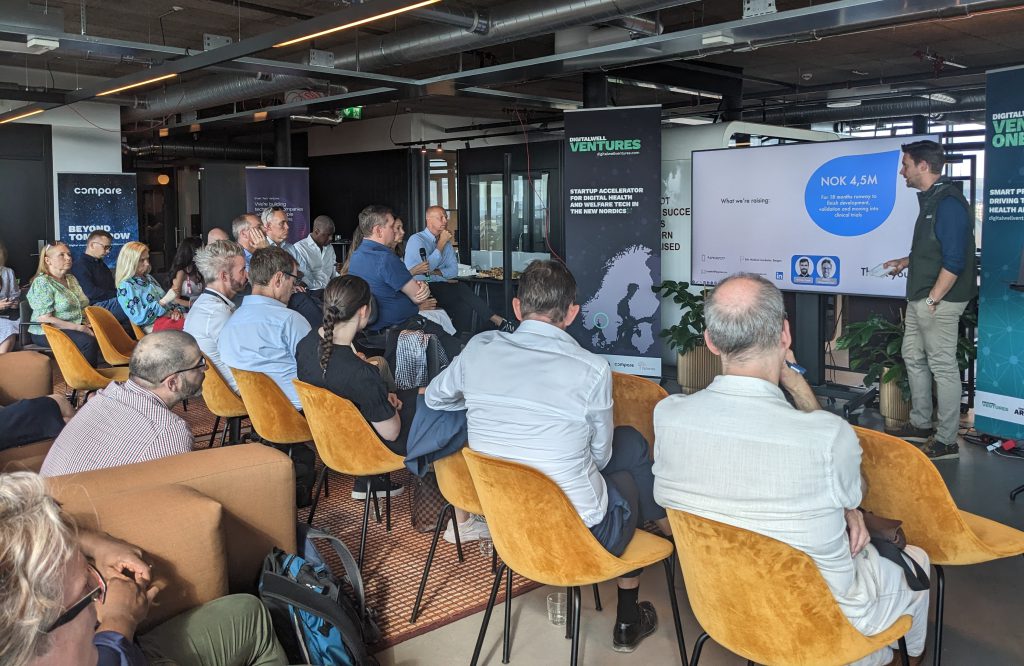 The Norwegian startup Eupnea, during its pitch at Demo Day in Oslo.
In general, several of the companies in the accelerator are already well ahead. For example, Voice Diagnostics, which offers personalized digital voice training programs, already has paying customers and half of its ongoing investment round signed. The same applies to Norway's Eupnea, which uses an advanced smart sensor to proactively manage high-risk patients.
Need to convince investors
The investors on site seemed satisfied with the quality of the pitching companies and also asked some challenging questions to the companies.
- It is clear that the current slightly more frosty investment climate on the market requires that companies seeking capital also need to show traction, i.e. results such as sales, pilot projects or similar. Just coming up with a "good idea" is no longer enough, and our companies have really shown that, says Stefan Skoglund.
The next cohort for DigitalWell Ventures starts in September and applications for the autumn accelerator program are now being accepted.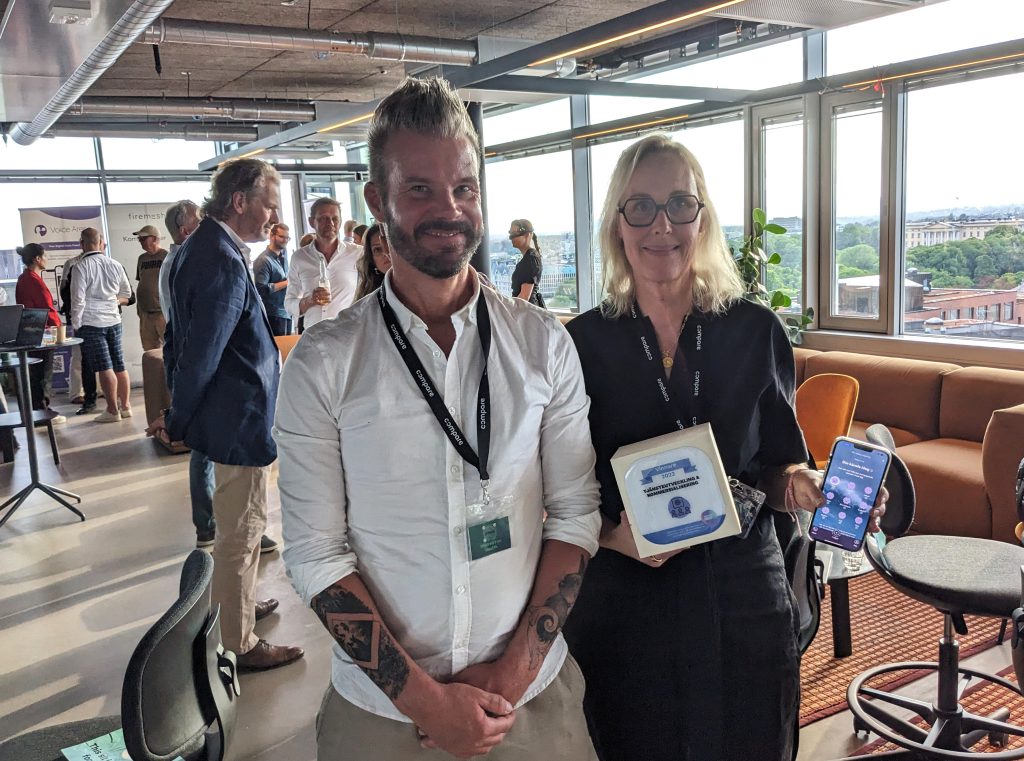 Johan and Helene Strandkvist from MeWe&You both received a diploma from the accelerator program and a DigitalWell Award.
Briefly about the companies in cohort #5:
EasyCare is a software that manages aids in local care facilities. It consists of different parts that handle specific tasks and ensure that the right aids are assigned to users and delivered to their homes.
An application powered by ML/AI designed to help working women effectively manage menopause. The aim is to offer support and guidance during this life phase in a user-friendly way.
Salimeen leverages blockchain to connect individuals from the Middle East and other parts of the world with certified mental health experts. They emphasize the importance of prioritizing mental well-being in times of isolation and disconnection. They have created a safe and secure environment where individuals can easily access the support they need, no matter where they are.
Winemill is revolutionizing drinking culture by introducing a new method to adjust the alcohol content of different drinks. Their multi-functional devices can create lower-alcohol drinks, explore new flavors while reducing waste and inventory requirements. .
A leader in health monitoring, Eupnea uses a smart sensor to detect disease at an early stage, enabling proactive management of high-risk patients. 
Improves and transforms people's voice with simple, engaging and personalized digital voice training programs. The programs are designed to provide a clearer and more sustainable voice. The voice exercises take a few minutes at a time, and allow you to record your voice, track your progress and receive voice analyzes and self-assessments that accompany you on the journey. 
Offers a tool, Ahead Treatment Advisor, for healthcare professionals that provides insight into expected outcomes of antidepressant treatments. It aims to support mental health units in diagnosis and treatment by providing information on treatment effectiveness. Currently, only about half of the patients achieve symptom relief after six months with different treatment options.
The companies in the fifth cohort together with the DigitalWell Ventures team. In total, over 30 companies have completed the healthtech accelerator's program since its start in 2021.